Rear Glass Replacement in Simi Valley
Is Your Rear Glass Broken?
Don't worry, we can replace your back glass on any vehicle. This is a very simple procedure in small cars and it did not take too long to replace it, we use the best products and glass for auto glass replacements on the market and also uses the best OEM and EEM brands for a better quality replacement on your rear glass. , without stress or claims and we also offer a lifetime guarantee on the job.
We offer sliding rear window replacements in most trucks  such as: GM , FORDS, NISSAN, HONDA, RAM, DODGE and more , manual or electric rear glass replacements in the latter the process is a little longer and tedious but do not worry our auto glass experts  are certified to offer you the best service.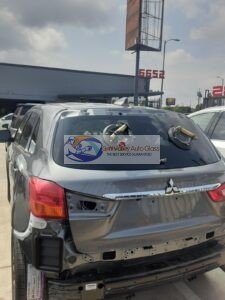 How long does it take to change my rear glass?
This depends on the type of vehicle you have. For example, in sedan's, the procedure is very simple and can take less than 40 minutes, however if your car is a hatchback or is a sliding or electric glass, the process may take longer, around 1 to 2 hours on average to replace the rear glass.
What is the price to replace my rear glass?
This also depends on the year and model of your vehicle but an average is 200 to 500, remember that electric back glasses take longer to be replaced and luxury cars like Merces and Bmw are expensive glasses because they are equipped with antennas and also with special defroster but we always offer an affordable price.
What is the process to replace my back glass?
1.Our certified auto glass technicians inspect the damage first and if there is anything damaged such as scratches on the paint or any other situation that prevents the installation, the customer is informed.
We remove all the fragments of the broken glass from your vehicle with our special auto glass tools.
We make sure that the glass fits properly before installing it and prepare it by cleaning it with our special auto glass cleaner, we also make sure to use primer on the weld pinch of the vehicle if our tool caused any scratches on the pinch weld, we cover it with primer for a safety back glass Installation and prevent it from rusting in the future.
Once the glass and the car are prepared, we proceed to install the glass and make sure that everything is properly installed as well as the heaters and antennas (depending on what your car is equipped with)
Once we make sure that the rear glass is installed correctly, the next step is to clean the interior of the vehicle as well as the exterior.
Do you come to my location to replace my rear glass?
The answer is yes, we offer mobile service on any auto glass replacement.
How long should I wait to be able to drive my car after replacing my rear glass?
You can usually drive your car 30 minutes after any car windshield replacement or back glass replacement.