Side View Mirror Replacement Simi Valley
Driver side mirror and passenger side mirror replacements give car drivers the important ability to see what is going on behind them on the road. Drivers are able to access a variety of different mirrors for this purpose. These include automatic dimming review mirrors, power mirrors, wide-angle mirrors, side mirrors, and truck towing mirrors, we also offer free mobile service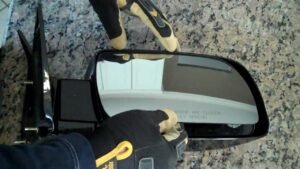 Get the Best Priced Side View Mirrors
All of our mirrors are manufactured using first-surface chrome mirror glass designed to reduce glare during night time driving.
We source the highest quality mirror glass. Our premium automotive mirror glass replacements are hand inspected and 100% distortion free.
We are proud to say that all of our mirrors are manufactured in the USA. Resulting in a premium quality product developed and manufactured with care.
Specialized mirrors are for specialized vehicles such as SUVs, wide trucks and minivans. It is difficult to see when backing up these large vehicles, the side view mirrors help in a big way. Wide-angle kinds make the process of reversing a whole lot easier. This helps to reduce blind spots significantly. Trucks that tow cars will need special mirrors for this purpose. This helps to see beyond the vehicle that is being towed. These come in a variety of shapes and sizes as to be customized to specific vehicles. Sadly though, due to their positioning, the car mirror is very easily damaged.
Side mirrors play a key role in safe driving. They allow you to change lanes and maneuver around obstacles more easily. They also help you see what is coming up behind you and can save your life if you are being chased by a thief.
What's the Difference Between Passenger Side Glass and Side Mirror Glass?
The short answer is that this piece of equipment is made of a single-ply reflective tempered glass. It is tempered by heating it and then cooling it down. This is to prevent it from shattering like regular glass when broken.
Side view mirrors are essential for safe driving. They increase your awareness of other vehicles and obstacles. When you replace your side view mirrors, you will find the lowest prices at Simi Valley Auto Glass. We also have great deals on car window tinting.
Mirror Glass Types
There are different types of side mirror glass. The main types of side mirror glass are either convex or flat.
– This type of mirror is placed on the driver's side of your vehicle. It is better than the passenger side mirror. It is usually placed near the driver's seat and in such a way that the image does not need to be distorted in order to be visible.
– A convex mirror is a mirror that curves inward, causing the image to become distorted. These types of mirrors are constructed in order to help the driver view objects seen in this mirror from the driver's seat.
Side mirrors may include:
– You can add a rear view mirror to your vehicle if it does not already have one. This will provide you with a clear view of the vehicle behind you.
– Auto-dimming mirrors are used to prevent glare. The mirror is coated with a special gel that can adjust the amount of brightness based on the amount of glare. This is a better solution to a regular mirror.
– This type of window is useful in winter months when the temperature can drop below freezing. The heating mechanism prevents the surface from freezing and so you can see clearly.
– Built-in indicators: This can help make your intentions clear to other drivers.
How To Replace Your Side Mirror Glass – The Quick Way
The glass on your side mirror is a component that you can replace yourself if you know when to do so. This will depend on whether your housing is intact and whether the glass is damaged. If you can save by replacing the glass only, then this is what you should do. If the entire housing is damaged then you will need to replace the entire mirror.
It is important that you change your side mirror right away if there is a problem. While laws may vary by state, your mirror is important to your safety. A broken mirror is a safety hazard and should be fixed immediately.
How To Install A Mirror Glass On A Car
This is a list of the most common ways to do a job. It may vary based on the make and model of the device.
– If you have broken a mirror and are unsure what to do, make sure you wear protective gloves as they will allow you to handle the broken mirror in a safe and non-dangerous manner.
– Clean the mirror with a cotton bud dipped in a solvent, such as glass cleaner.
– When applying adhesive to mirror replacement glass it is advised to use only the adhesive in the middle of the glass. If you do not use enough adhesive you risk weakening the bond. As well, applying the adhesive too close to the edges of the mirror may also cause a problem.
– When replacing your mirror glass it is best to use adhesive sealant to hold the new glass in place. This will allow the adhesive to cure and provide a secure hold to the mirror glass. Masking tape can also be used to hold the glass in place until adhesive cures. Tape should be removed once the adhesive cures.
– Silicone sealant can be very sticky, so you should ensure you follow the instructions. It should be tack free in 1 hour and fully cured in 24 hours. Black rubber sealant should be tack free in 2 hours and fully cured in 24 hours. Adhesive sealants will be tack free in 30 minutes, but may take up to 48 hours to cure fully.
I've Found the Best Online Shopping Websites
Select the correct car and you can narrow down the replacement mirror glass options. It is important to confirm the side of the vehicle on which the replacement glass is designed for installation, mirror shape and power features.
Simi Valley Auto Glass stocks the best mirror replacement glass for cars and trucks. Whether your mirror needs to be replaced or you are looking to replace the entire mirror assembly, we have the best mirrors for your vehicle.
There are many reasons why a side view mirror assembly may need to be replaced. There are many parts that make up a side view mirror assembly such as the mirror glass, the bezel, the mounting bracket and even the mirror itself. The mirror glass can be replaced easily and quickly by a mirror glass installer. Broken mirror glass can be replaced easily and quickly.
The Comparability Of The US And The EU
Simi Valley Auto Glass is your best option when you need to find car glass repair near me. We have a free shipping policy on all car glass repairs. If you need car glass repair you can also pickup in store or order certain models of car glass repair in store.