Windshield Repair in Simi Valley
Simi Valley Auto Glass is determinated to bringing an affordable Windshield repair to Simi Valley Ca. 100% customer satisfaction is our goal you can call us or book your appointment online . We ofree free mobile service auto glass so you can relax conveniently at home while we take care the rest. Don't worry we have been in the industry for more than 15 years , we handle any windshield Chip repair in Simi Valley.
 If for any reason we are unable to fix the crack or it fails, any money paid toward your repair will be credited to your replacement windshield.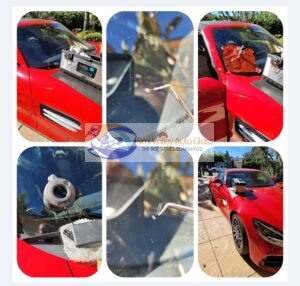 Fix your chip before is too late !
Do i need to replace or repair my windshield ?
When cracks in your windshield are smaller than a quarter, they can usually be repaired. Any crack larger than that will require a full windshield replacement. However, it's worth noting that every chip is unique and if you feel unsure, it's better to trust the repair vs. replace decision to a professional.
Does windshield chip repair really work?
When a windshield repair is done, a small amount of clear resin is injected into the chip, crack or star. This simply fills up the crack or chip with a material that helps prevent it from cracking further.
Can you guarantee that the chip or crack will be invisible after the windshield repair has been completed?
No. A windshield chip or crack repair is used to prevent further damage to your glass and to restore the structural integrity of the vehicle. While each incident of damage is unique, with most successful repairs, a slight blemish or imperfection where the impact occurred is normal. In most cases, you should expect the cosmetic appearance of the repair to show some improvement as compared to the damage prior to the repair.
Can you guarantee that your windshield will not crack during the repair process?
No. In some cases, through no fault of the repair technician, the attempt to repair a windshield can result in the chip or crack becoming larger. However, we can guarantee that upon completion of a successful repair, the chip or crack will not crack further and that the repair will pass any state vehicle inspection, or we will credit the cost of the repair toward a replacement.In the very rare event that this occurs, we will credit the cost of the repair either toward a new windshield Can you guarantee that the chip or crack will be invisible after the windshield repair has been completed?